Mercosur Hall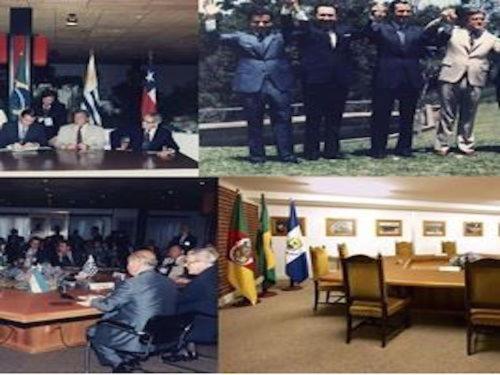 HISTORICAL CURIOSITY!

In February of 1992 Stone Slab entered history with an episode that you may not know. The hotel was the venue for the signing of the Mercosur Treaty, with the 4 Presidents of the member countries: Fernando Menor (Argentina), Fernando Rodriguez (Paraguay), Alberto Lacalle (Uruguay) and the Minister of Foreign Affairs Chilean, Enrique Silva Cimma.
Among the options of locations in the Serra Gaúcha, Laje de Pedra was chosen to host the event after a conversation between the Operational Director of the Hotel Maria Thereza Druck Bastide and Leda Collor, mother of the President of the Republic, who met through friendship common. Leda then learned about the differentials of the development, the only one with 28 thousand square meters of built area and privileged location that would facilitate the security of the environment. In addition, it had two presidential suites and other accommodations that could be easily adapted for this purpose. The conversation was decisive and on the same day the Stone Slab was the elected of the President.
During the event, everything happened as planned. Even the meals of the hotel's 2,000 military personnel were prepared in-house. The service and the services rendered surprised so much that they earned a note 10 from Itamaraty, whose diplomatic school of the time was considered the most rigorous in the world.
Therefore, the Hotel Mercosul Convention Center has been baptized in this way. Halls, theater, auditorium and support rooms form this complex of reference in events of the region.
It's not interesting? Now imagine you holding some event to sign a deal or close a contract in this historic room?
Contact us. Your business deserves this differential!
Phones (54) 3278-9200 / 3278-9000
Or WhatsApp: (54) 9 9625-6839.
reservas@lajedepedra.com.br